Welcome to ADAPT!

ADAPT is a national grass-roots community that organizes disability rights activists to engage in nonviolent direct action, including civil disobedience, to assure the civil and human rights of people with disabilities to live in freedom.


NEW Spring Action Dates
ADAPT's Spring Action will be in Washington, DC from Saturday, May 13th thru Thursday, May 18th. For more information email Michael Heinrich at Heinrich@MCIL.org FREE OUR PEOPLE!
NEW Action Alert - Save Disability-Specific Aspects Of ACA
Congress is on the fast track to repeal the Affordable Care Act (ACA). There are many, many advocates fighting to preserve the insurance provisions of the ACA – known as ObamaCare, but virtually no one is talking about the disability-specific aspects of the law. There are four important provisions in the ACA that are critical for the Disability Community. Click here to read more.
Click here for a quick link to the action alert sign on letter.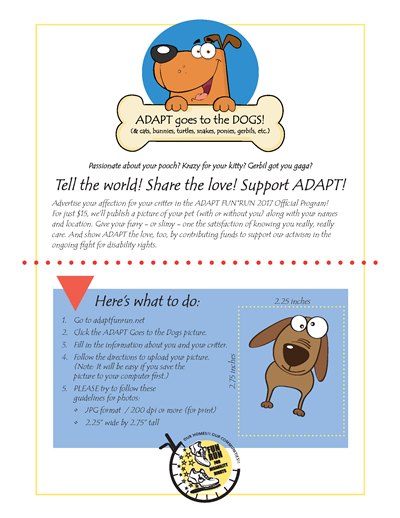 NEW ADAPT's Open Letter to President-Elect Trump
NEW ADAPT activists take on Massachusetts Department of Health and Human services fighting for the rights of people with disabilities to live in integrated communities. Read the press release.
NEW National ADAPT arrives in Boston, Massachusetts to fight against institutional bias. Read the press release.
NEW ADAPT calls on the Obama Administration to Address the Problems Resulting from DOL Rule Changes.
Instead of improving the lives of attendants and attendant service users, the new regulations have actually destabilized services and reduced the take home pay of some attendants.
Read the full press release.
Hillary Clinton is the FIRST Presidential Candidate to endorse the Disability Integration Act!
Hillary Clinton has released a statement supporting the Disability Integration Act (S.2427)! In part her statement reads:
In this campaign, I have committed to improving opportunities for people with disabilities to live in integrated community settings, consistent with the full promise of the Americans with Disabilities Act and the Supreme Court's historic Olmstead decision. As President, I am committed to ensuring that these promises are fulfilled. That is why I support the Disability Integration Act, sponsored by Senator Schumer and co-sponsored by Senators Gillibrand, Casey, Bennet, and Leahy.
Read
Clinton's full statement
.
Incitement released
After being on hiatus, Incitement is back! ADAPT's newsletter is available in several formats.
Read ADAPT's newsletter: Incitement.
Thanks Senator Schumer! The Disability Integration Act has been INTRODUCED!
On December 18, 2015, Senator Schumer (D-NY) introduced the Disability Integration Act! This legislation (S.2427) is intended to assure that people with disabilities can live in the community rather than be forced into nursing facilities and other institutions.
This ground-breaking legislation establishes statutory civil rights language - comparable to the ADA - which requires public entities and Long Term Service and Supports insurance providers to change their policies, provide community-based services first, and offer HCBS to people currently in institutions.
You have questions?
ADAPT has answers.
Here is everything you need to understand the legislation and advocate to FREE OUR PEOPLE! Learn more about DIA S2427 here.


Boston Massacre, Michigan Maggots, New York Shit Show, Wisconsin Rat Droppings, Oh the horrors!
While people in society believe that horror stories are just for Halloween, many people with disabilities live in horror stories as they are trapped in nursing facilities where abuse, neglect, and other horrors happen on a daily basis. These are their stories.


ADAPT and the National Council on Independent Living File Amicus Brief in DOL Case
ADAPT and the National Council on Independent Living (NCIL) filed an Amicus Brief in Home Care Association, et al v. David Weil, et al, the Department of Labor case regarding the companionship rule changes. The brief filed by ADAPT and NCIL details the detrimental effects the companionship rule changes will have on attendants and people with disabilities.
Click here to read the brief.
ADAPT 25th ADA Anniversary Poster Collection
The ADAPT Community is excited to announce its new 25th ADA Anniversary "Rights Worth Fighting For!" Poster Series. We will be celebrating the 25th Anniversary of the ADA, the disability community's civil rights legislation, in July 2015.
ADAPT is starting our "Rights Worth Fighting For!" series by with two posters that you can display at home or in your office to commemorate the ADA and disability rights advocacy. The first poster, "Rights Worth Fighting For", features a classic Tom Olin photo.
The second poster, "Power Concedes Nothing Without A Demand.", features the famous quote by Frederick Douglass and the ADAPT logo against a classic-ADAPT tie-dye background.
These posters make great gifts!
Use this
order form
or contact
ADAPT
for more information.
ADAPT Merchandise for sale!
Lose a shirt? Previous Action shirt not fit anymore? Need cool holiday gifts? ADAPT has you covered! We are selling previous action tees through eBay. We have more but eBay won't let us put them up until they see we are a credible seller. So buy a shirt, rate us well and we will put up more!
You can also buy posters from the eBay site.


Community First Choice Option
Several states have already indicated that they will be selecting the option. California has formed a CFC Development and Implementation Council and has an aggressive timeline for CFC Implementation. New York has announced that it will be selecting the option. Maryland has confirmed that the state will select the option. Alaska, Rhode Island and Washington all indicated in a Families USA survey that they would be selecting the CFC Option in the coming year. In the same survey, Arizona has indicated that the state is considering selecting the option.
Whether your state is moving forward with the CFC Option or you are advocating that they do, ADAPT's Community First Choice Option Fact Sheet explains the basics for you. We have also developed Answers to Frequently Asked Questions about CFC as well as a sample letter you can edit to send to your State Medicaid Director to ask for a meeting about your state selecting the CFC Option.
Managed Care
The expansion of Medicaid managed care that includes long term services and supports for people with disabilities and older people confronts us with the challenge of how to assure that the advances we have made in developing a person centered, consumer directed, community based system is not diminished or eliminated. Managed care has some positive opportunities as well as potential for negative outcomes.

States are developing Requests for Proposals that HMOs must respond to. The HMOs selected to administer the program then must sign a contract with the state that outlines what they must provide, how it is delivered, how the state will evaluate their performance and how the HMOs will be reimbursed. Advocates should be at the table telling the state what "best practices" to put in the RFP. In addition there must be some accountability in the managed care contract to assure that community integration is the outcome we want.
Two resources for advocates at the state level are Guiding Principles for Serving Individuals with Disabilities through Medicaid Health Plans that National ADAPT negotiated with the American Health Insurance Programs (AHIP)in 2007 and proposed Community Integration Performance Indicators (CIPI) that ADAPT of Texas has recently developed to assess how their managed care program in Texas (StarPlus) is doing in providing LTSS.
Other Important Links!